Vedanta Catskills Retreat
Upstate NY
May 19-21, 2023
Objectives
The purpose of this retreat is to give you an insight into the astounding wisdom of Vedanta. Vedanta is ancient, universal wisdom that contains eternal principles of life and living. Under the personal guidance of Gautamji, head of Vedanta USA and senior disciple of Swami Parthasarathy, you will undergo a comprehensive program over three days in the serene setting of the beautiful Catskills in Upstate NY.
The retreat is open to adults as well as children aged 9 and over.
Topics Covered
Bhaja Govindam
The Bhaja Govindam consists of 31 verses written by Adi Sankaracharya in the 8th century AD. It is a highly acclaimed Vedanta text that beautifully conveys the practical and deeper philosophical truths of life. The futility of mundane existence versus the magnificence of the spiritual pursuit culminating in the ultimate state of Self- Realization.
Event Details
Destination
Frost Valley YMCA in the Catskills, Claryville, NY
Date
Friday May 19 – Sunday May 21, 2023
Course Directors
Gautam Jain (Main Session)
Adults and young adults 16 and over
Ritika Jain (Youth Session)
Ages 9 to 15
A day at the retreat
(subject to change)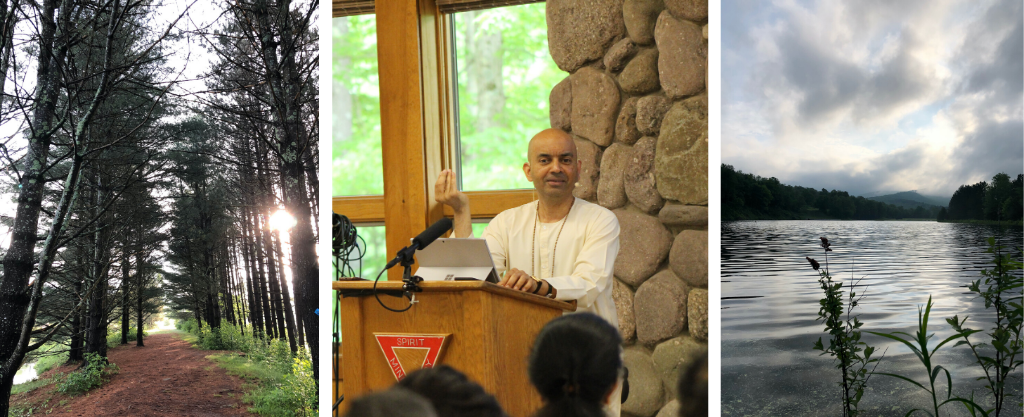 4:45 am Wake up (Optional)
5:00 am Individual Study
6:00 am Tea
6:30 am Yoga
7:00 am Sports, Jog, Trail Walk
8:00 am Shower
8:45 am Breakfast
9:30 am Morning Lecture
10:45 am Small Group Interactive

12:00 pm Q&A session
1:00 pm Lunch
2:00 pm Rest/ Campus Activities
3:30 pm Evening Lecture
4:45 pm Tea
5:00 pm Philosophical Movie
7:30 pm Devotional Singing
8:00 pm Dinner
9:00 pm Retire