Life changing. With great charisma, Gautam provided an engaging perspective into concepts that I had never considered. It was an eye-opener
Feedback after Gautam's presentation at a CEO conference, Denver, CO
The concept
The presentation is based on the fundamental principle that you need to manage yourself before attempting to manage things and relationships around you. You will learn how to use this principle to improve your relationships, enhance performance and reduce stress. Gain a direction towards purpose and fulfillment in work and life. This knowledge is derived from ancient philosophical wisdom that contains universal time-tested principles of practical living.
The founder
"A man who adds new meaning to the phrase Business guru"
TIME magazine, on philosopher A. Parthasarathy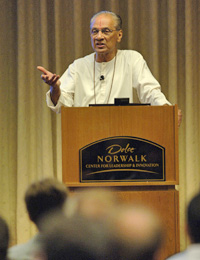 World renowned philosopher A. Parthasarathy is widely regarded as the global pioneer of ancient eastern wisdom and its practical application in modern life. This celebrated 92 year old writer and author has been featured in TIME, Business week and the New Yorker. He is included in the book '101 Great Indians' and is the founder of the Vedanta Cultural Foundation, which has centers worldwide and runs the Vedanta Academy in India. Mr. Parthasarathy has been a revered YPO resource worldwide for decades. YPO is the world's largest CEO organization.

The speaker
Gautam Jain, head of Vedanta USA and senior protege of A. Parthasarathy. Gautam completed a brilliant academic career in the United States. Upon graduation, he declined lucrative offers from leading multinational corporations and returned to India to learn under Mr. Parthasarathy. Gautam has dedicated over two decades to full time study, research and teaching of ancient wisdom and its practical application in life. He is currently in the US to head the Vedanta Cultural Foundation, an organization dedicated to Self- management educational programs.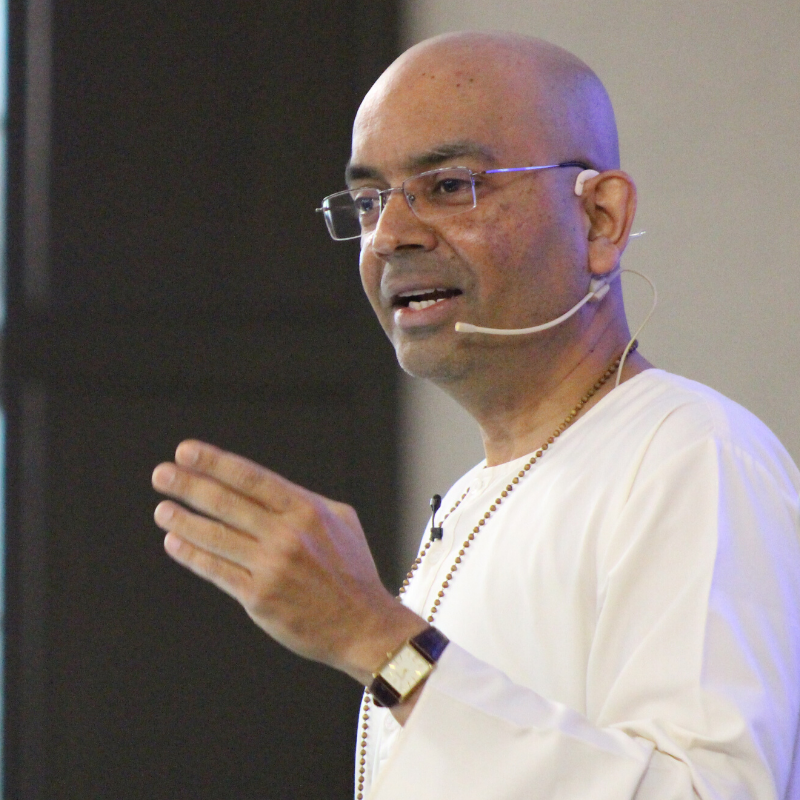 Gautam has lectured to premier organizations and universities, including the YPO-YPO Gold, EO, IBM, Oracle, Goldman Sachs, AT & T, Princeton and MIT. YPO is the world's largest CEO group, and Gautam has been an acclaimed resource for numerous chapters of this organization in both North and Latin America for over a decade. He has also been featured on PBS and ABC for his work on the subject.

Short videos of Gautam speaking at a corporate conference:
On expectations and stress: https://vimeo.com/313532351
On the nature of the mind: https://vimeo.com/313532074
References to Gautam's previous presentations
"The overall event rated an outstanding 9.63/10. More importantly to me, every person who attended said they had learned something of value which they will apply in their personal, family or business life"
– Carol Hansen, Education Chair for the YPO CEO group, Denver, CO

"Not only did Gautam enlighten and inspire the audience, he entertained them as well. He injected a sense of humor that lightened the mood of the first day"
– Ziad Khoury, CEO, Frontline Performance Group, Orlando, FL

"Undoubtedly the best event I have ever attended"
"Most events can't possibly deliver such life changing content"
"Incredibly powerful event"
– Comments after attending Gautam's CEO presentations


Topic Suggestions
Manage Yourself Manage Your World
Building Mindful Relationships
Success without Stress
Control Your Mind Control Your Life
The Key to Stress Management
Balance Fulfilment Wellness
Mindfulness Focus Clarity
Wisdom at Work
Self-Control: The Essence of Success
Ethics and Values for Business
The Making of a Leader
If you don't tire you don't retire
Format
One of the following options
1) The preferred option is an intensive three-hour session. A 60 minute session on a topic of your choice, followed by a breakout forum style session of 50 minutes and a concluding question and answer session of another 45 minutes. 10-15 minute breaks between sessions.
2) A 90 minute session, in which a topic of your choice will be presented for 60 minutes directly followed by a 30 minute Q and A module. This option is advised only if the three hour option is not possible since the level of interaction as well as content is limited by the 90 minute time consideration.
3) A more comprehensive one or two day retreat event covering multiple topics is also offered and is the first choice for a chapter looking to delve deeper into the philosophy of life. Contact us for further details.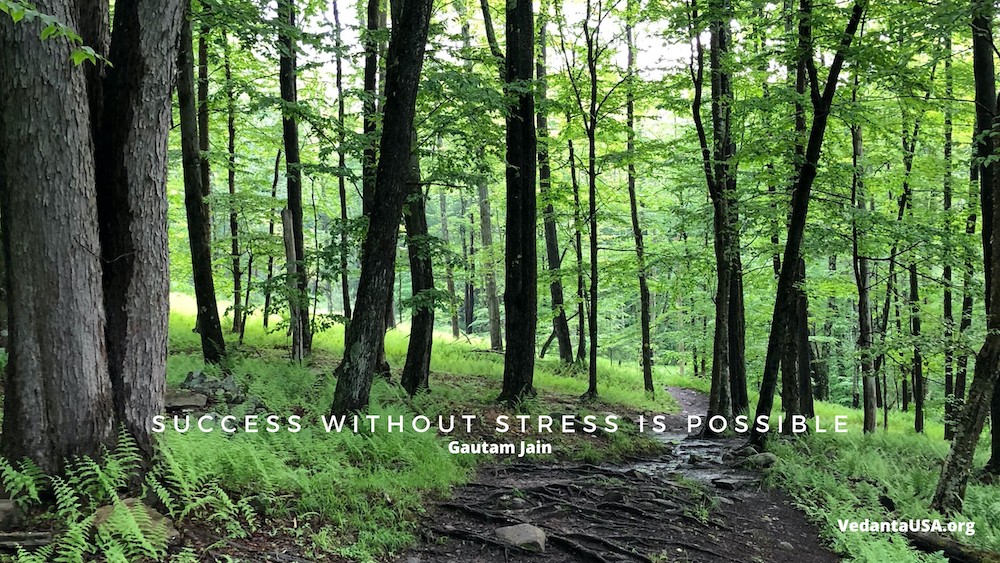 Where you find peace, you don't find success, where you find people successful, they are stressed out. Combining both these is possible with the right wisdom. More information, including regular lec…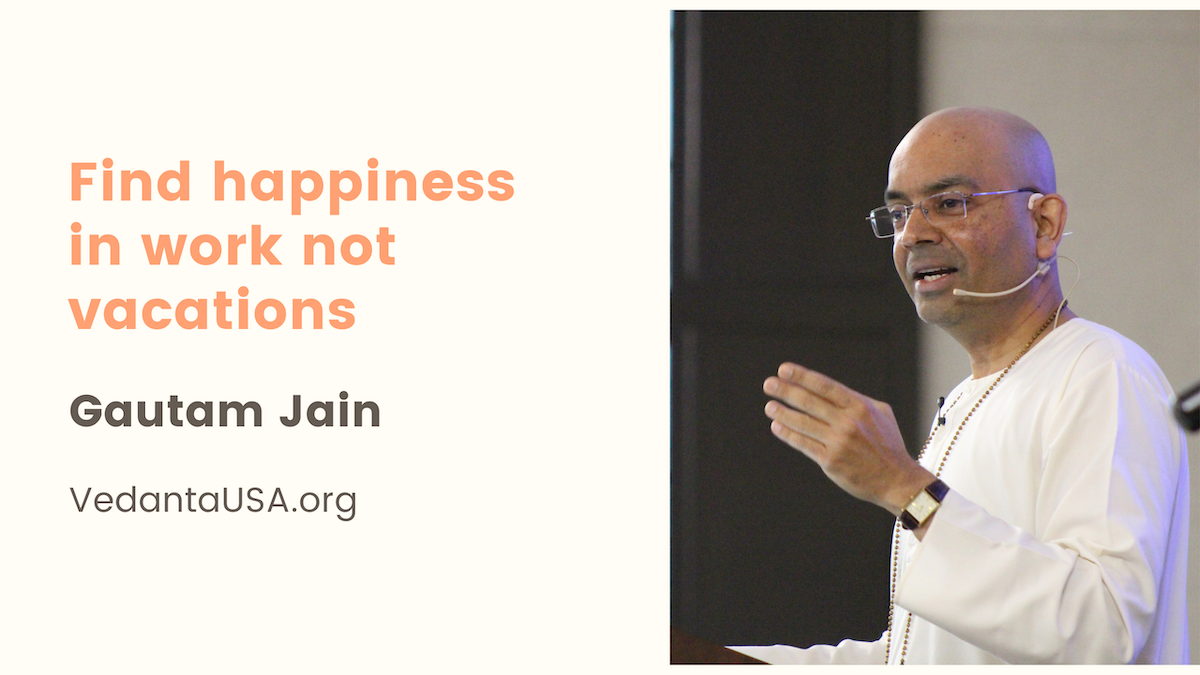 Everybody wants to find happiness but running away from work. In weekends or vacations. If you cannot find happiness in work, you will never find it. More information, including regular lectures and r…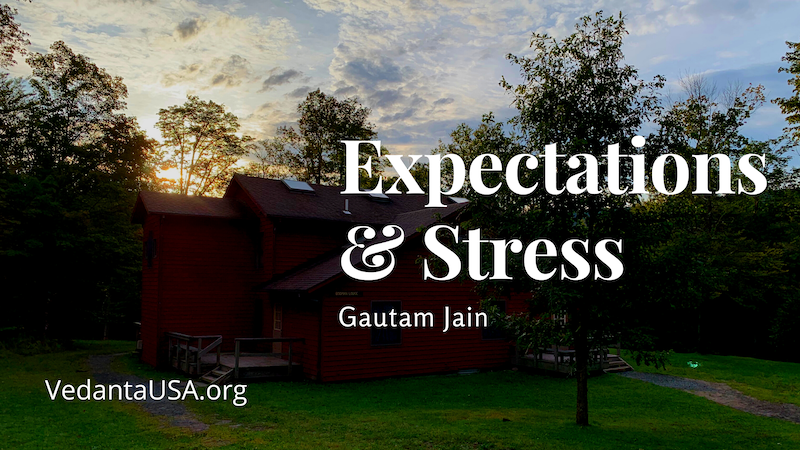 You don't assess the world around you properly. Develop wrong expectations. Get stressed out. Don't blame the outside world, learn to assess it properly to manage your expectations, reduce your st…
Web Links to related articles, including TIME, Businessweek, the New Yorker, and the Kellogg School of Management: www.vedantaworld.org/press